You can have the best Private Label product in the world, and it still won't sell on Amazon without a killer listing. You need to have an Amazon listing that is optimized. A big chunk of that optimization revolves around great copywriting. We've previously discussed some of our favorite copywriting secrets we've used to boost sales for our own listings. Today, we'll discuss a few more.
Analyze Your Competitors' Reviews
You don't need everyone to be attracted to your product listing: You need buyers to be attracted to it. Good copy will attract your target audience, which will lead to higher sales, better rankings, and a higher conversion rate. When you tailor your listing toward your target audience, you will turn potential customers into official buyers. Conversely, if you alienate this audience with sloppy, boring, or uninformative copy, you will drive your customers away.
One simple way to find out what will attract your target audience is to check out your competitor's reviews for comparable products. Real-life customers tell the world exactly what they like and dislike about these products via personalized reviews. Say you have a Private Label dog bed for large dogs. You head on over to a successful competitor's listing for a similar bed, and you see this "Top Positive Review:"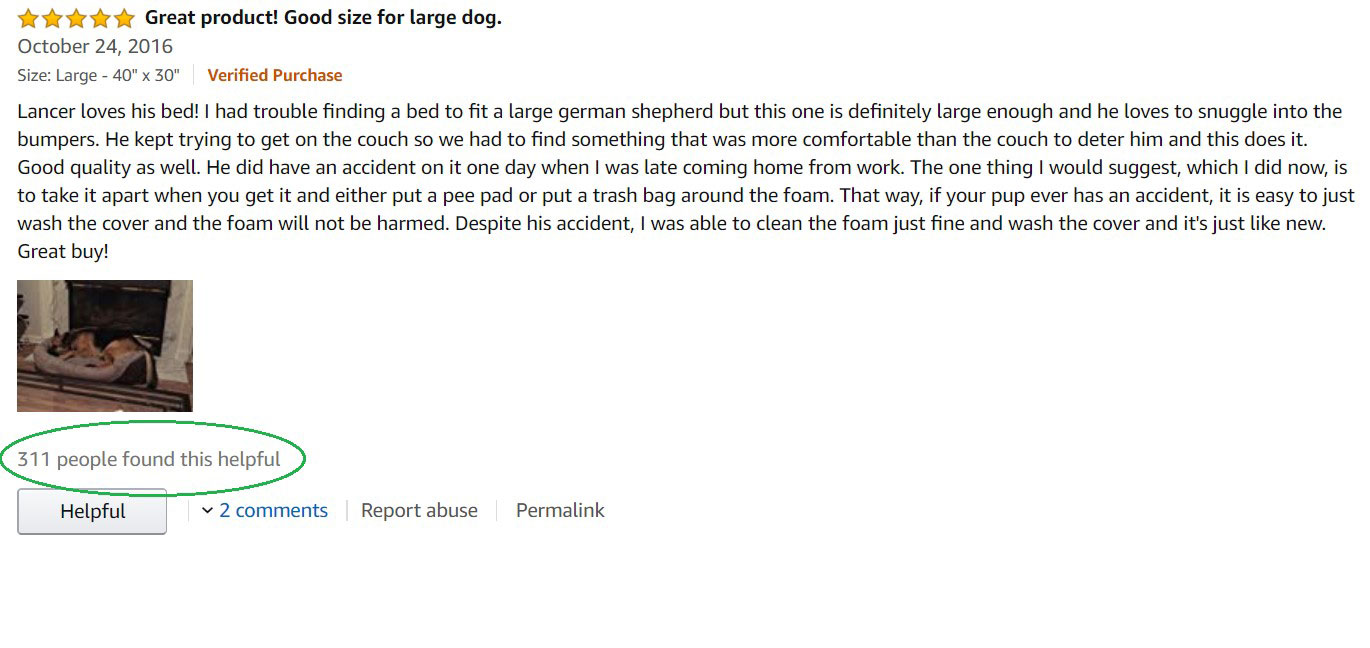 311 people found this review helpful. We're not clairvoyants, but we're guessing that many, if not all, of these 311 people were driven to buy this product based in-part or in-whole on this review.
So, how do you use this knowledge to write an effective description for your target dog bed-buying audience? You need to focus on conveying to your potential customers how roomy, snuggly, and easy-to-clean your Private Label large dog bed is. That will strike a chord with this audience, and help turn convert them into official buyers.
To see what aspects of your product may drive away potential customers, be sure to also check out your competitors' negative reviews. If you are a visual learner, you can copy reviews right into TagCrowd. TagCrowd creates a visual word map of how often specific words are used in a block of text. The larger the words, the more often they are repeated. Take note of most commonly repeated negative traits you see (easily breakable, too heavy, looks cheap, too thin, bad smells, and so forth). Make sure your product does not have these traits. If it does…well, you might want to reconsider listing this particular product.
Go Back to Your Previous Listing
Now, take a look back on how you previously created your listing, and the mistakes you made. This exercise will help you understand what not to do this time around. What kept your customers from making a purchase? Were your photos poor-quality? Did you have too generic of a title? Were you skipping bullet points? Did you tell your customers exactly how your product helps them? (Remember: Your product solves a problem. Make sure you tell your potential buyers exactly what that means!) Did you have a call to action at the end of your description? Use the tools in Seller Central to determine your listing's traffic patterns and most relevant keywords, but don't start writing just yet.
Shop for Yourself
Use yourself as a potential shopper to gather data on what a great listing feels like to you. Use your computer, your smartphone, and your tablet to search for products similar to the one you are selling. (Be sure to use both the browser and Amazon app when shopping on mobile.) Take careful notes on what you see, what you like, and what you dislike. Keep track of what you click on, and why you clicked it. What caught your attention in titles, bullet points, and descriptions? Use this knowledge, along with your previous research, to then carefully create your new, optimized product listing. Make it into a listing you would click on, and ultimately buy, if you were an average shopper.
The easiest way to tell the world about your quality product in its optimized listing is to actually have a quality product. We teach students how to source quality products directly from suppliers at our annual Canton Fair Live Training Event. Our 2019 trip is coming up soon, and would love to have you join us!